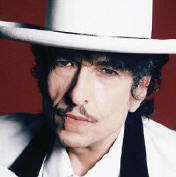 Every Sunday I read the
Los Angeles Times Calendar Section
to see what plays, music groups, and performers are coming to the L.A. area. A couple weeks ago I noticed that Bob Dylan is performing at the Forum on October 20th, and the Long Beach Arena on October 21st. I like Bob. He was the music spokesman of my generation. Much the way that Bono is the spokesman today. Last year I read the first volume of Bob's autiobiography,
Chronicles
. It rambled a little -- well, maybe a lot -- but I enjoyed reading about how Bob evolved as a successful singer-songwriter. Who would have thought that Bob was friends with Bobby Vee, or that he admired Ricky Nelson? I especially liked his description of working and hanging out with a guy who plays a ukulele - later known as Tiny Tim. I'm not going to the concert this time (I saw him a couple years ago at the Forum), but if you're interested in finding out more about Bob you might consider checking out the book,
Bob Dylan, The Essential Interviews
, or the DVD,
No Direction Home: Bob Dylan.