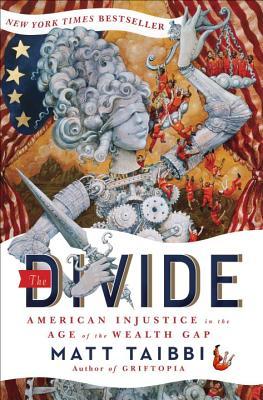 Income inequality has been a major topic of conversation in recent years, and while some recent books on the topic such as Thomas Piketty's bestselling
Capital in the Twenty-First Century
address its economic aspects in wonderful detail, Matt Taibbi's
Divide
deals mainly with sociology and finance. Taibbi's book is a work of journalism in which he attempts to answer the question of whether there is a divide between the rich and the poor in the criminal justice system, and whether it is true that in post-2008 culture, it is accepted that some people have more rights than others. He does so by looking at how urban crime is handled by the U.S. criminal justice system, and draws parallels with organized crime on a grand scale, which led to the financial crisis of 2008.
On one hand, Taibbi gives us stories of real people in America's biggest cities who are caught in a world in which declining crime rates and arrest quotas put them at risk of constant police harassment and scrutiny. At the same time, he contrasts this with the lax regulation on Wall Street that led to the financial crisis of 2008, and the fact that despite criminal behaviors that affected millions of people in the world, the people directly responsible for these behaviors did not have criminal charges brought against them.
This book is especially relevant because as I am writing this review, on May 21, 2015, several of the largest banks in the world
pled guilty to market manipulation
, which was one major topic of
The Divide.
Today, Citigroup, J. P. Morgan Chase, UBS, Barclays, and Royal Bank of Scotland each had to pay a total of $6 billion in a settlement, but individuals responsible did not have criminal charges brought against them personally. However, this settlement was not the first one to which top banks agreed in the recent years. In 2012,
UBS paid $1.5 billion
in fines for manipulating interbank lending rates. In 2013,
J.P. Morgan Chase paid $13 billion
in a number of civil settlements. However, as the
Reuters article
points out, "The misconduct occurred until 2013, after regulators started punishing banks for rigging the London interbank offered rate (Libor), a global benchmark, and banks had pledged to overhaul their corporate culture and bolster compliance." The book argues the case that similar criminal behaviors by banks are destined to occur over and over again until individuals are made personally liable.
The Divide
was included in NPR's Best Books of 2014 list under as one of the year's eye-opening reads, and it serves its purpose well. While it is a work of journalism whose florid language makes it quite obvious where the author stands on the issue, it is eye-opening in that it makes the reader question the tenet that in a just democracy, everyone enjoys the same rights.