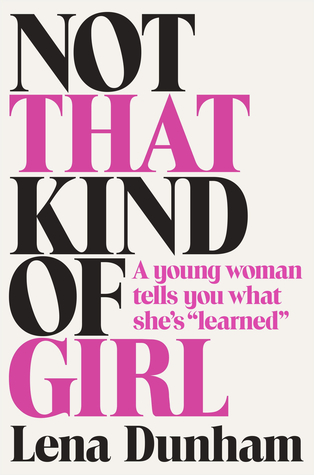 ​Not That Kind of Girl: A Young Woman Tells You What She's "Learned" is a collection of personal essays from Lena Dunham, the creator of the HBO series Girls. In this eclectic collection, Dunham gives her reader a realistic Gen-Y coming-of-age story with unabashed detail. In her poignantly hilarious stories, Dunham covers topics like her college "platonic bed-sharing" phase, her often disastrous relationships with all the wrong men, and her childhood summer camp experiences. There are also stories that are less funny and more insightful, like the one about her younger sister, and "Guide to Running Away"—an almost nostalgic story about childhood and growing up. The collection also includes some entertaining lists like "13 Things I've Learned Are Not Okay to Say to Friends" and "My Top 10 Health Concerns."


As a person who likes personal essays and funny memoirs, I found Lena Dunham's book to be entertaining and enjoyable. I discovered the book before I discovered Dunham's show, so I went into it with no prior familiarity. I appreciated this collection as much as I enjoy reading David Sedaris, Augusten Burroughs, and Chelsea Handler, and it was refreshing to read something written from the experience of someone who's not yet reached the age of 30. Dunham is quirky, uninhibited, and not afraid to admit her mistakes.


The audiobook is narrated by Dunham herself, which makes the stories feel even more authentic. Some will love her narration, others maybe not so much. It is evident that she does not have the skills of a professional audiobook narrator, but whether this is a good or a bad thing will depend on individual​ taste.

Editor's note:

Burbank Public Library also has the

book in its collection if you prefer to read rather than listen! And if you like personal essay or celebrity memoir, in addition to considering the authors mentioned by Anush, you might scroll down in our catalog listing to see the other books/authors suggested by NoveList under "You Might Also Like These…

" If you hover your mouse above the line "why this match?" NoveList will tell you!